couleur tavel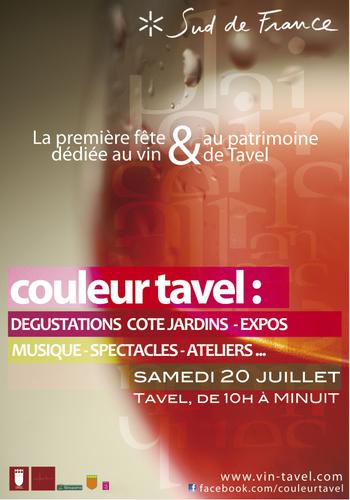 The First Event
Dedicated to wine &
to the heritage
of Tavel
In the presence of Arthur JUGNOT (actor, director and Producer)
patron of COULEUR TAVEL
saturday 2O th July 2013
from 10.PM to Midnight
An event created by the Syndicat of the Appellation Tavel and supported by the local council.
Couleur Tavel, is the first event dedicated to wine and to the heritage of Tavel.
"Wines and Gardens" will be the main theme for the first day of this convivial gathering show-casting the wide diversity of the skills of the local area.
Not just a wine event, Couleur Tavel will bring together wine-makers, craftsmen and artists from Tavel and their associates...
We look forward to seeing you on the 20th July to celebrate Couleur Tavel.
Contact and Information: aoc.tavel@wanadoo.fr